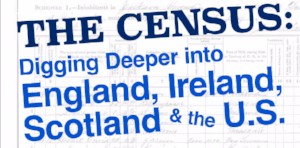 Event Title:
The Census: Digging Deeper into England, Ireland, Scotland and the U.S - Workshop
Description:
Half-Day Workshop Sunday, June 4
9:30 a.m. to noon
Genealogical Forum of Oregon

There is more to census records than just name, age, and locale. Was your ancestor a veteran? Did he own property? What religion was she? When did she arrive in the country? How wealthy was he compared to his neighbors? Most importantly, to what extent can you rely on those answers as they appear on that form?

Come spend the morning at the GFO with Kate Eakman, and learn the ins and outs of census records in the U.S. and British Isles, including England, Scotland, and Ireland. Kate holds a master's degree in history, and is a Senior Researcher with Legacy Tree Genealogists. She will share her expertise about how to find the census records you need, how to find your particular ancestor on that census, and how to evaluate all the information on that record.
This form stopped accepting submissions on June 4, 2017 9:30 am PDT.