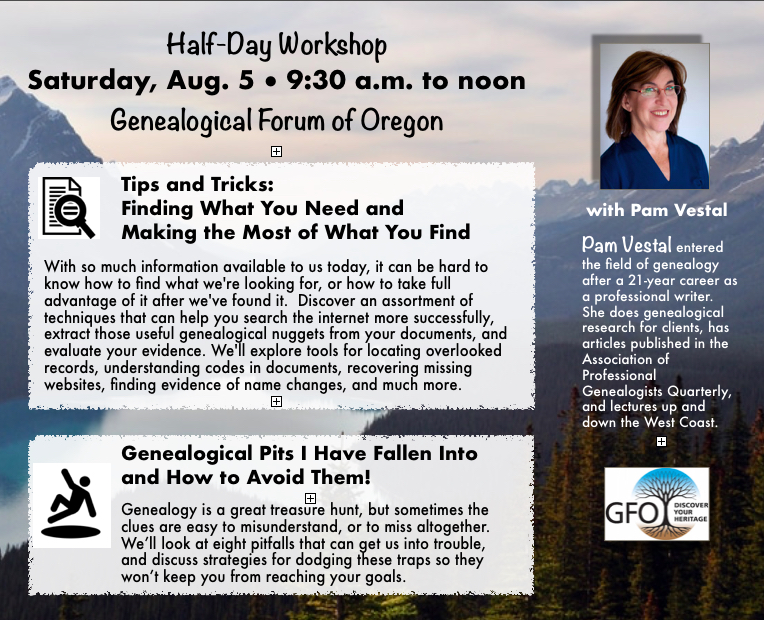 Event Title:
Tips, Tricks and Pitfalls Workshop
Description:
Date: Saturday, August 5, 2017
Time: 9:30 a.m. to noon
Presenter: Pam Vestal

Tips & Tricks to Use - With so much information available to us today, it can be hard to know how to find what we're looking for, or how to take full advantage of it after we've found it. Discover an assortment of techniques that can help you search the internet more successfully, extract those useful genealogical nuggets from your documents, access what you've found after you've filed it, and evaluate your evidence. We'll look at tools for locating overlooked records, understanding codes in documents, recovering missing websites, finding evidence of name changes, and much more.

Pitfalls to Avoid - Genealogy is a great treasure hunt, but sometimes the clues are easy to misunderstand or to miss altogether. We'll look at eight pitfalls that can get us into trouble, and discuss strategies for dodging these traps so they won't keep you from reaching your goals.
Register now online using your credit card for payment. If you wish to pay via cash, check or PayPal, please complete a paper registration form (click on the Flyer link below) and enclose your payment (or PayPal confirmation number), then either mail it or walk it in person to the GFO. Thank you.