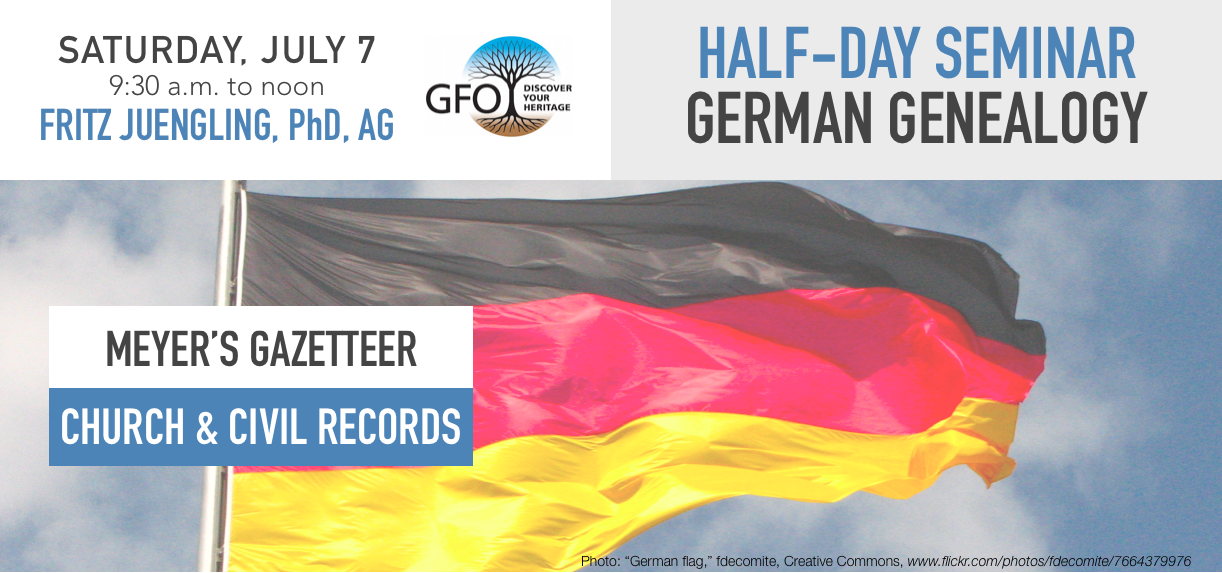 German Research: Half-Day Seminar
You can register and pay online, or download the registration form and send in payment. Note: Your registration is not complete until we receive payment. If the event is sold out before we receive your payment, you will be put on a waiting list.
Presenter: Fritz Juengling, PhD, AG®
Now online, indexed and fully searchable!  In this lecture, you will learn the history of the project, and be taken through the site using one town as a case study. You will also learn how other, less well known features can help the researcher with research.
German Church & Civil Records
Learn how to read the old records. This class will detail the strategies that the experts use when reading old records. With a few tricks, some work and perseverance, a person can unlock these old records.
Fritz Juengling, PhD, AG®
Dr. Juengling received his Bachelor's degrees in German Studies and Secondary Education at Western Oregon University, his Master's and Doctorate in Germanic Philology with minors in both English and Linguistics at the University of Minnesota. Germanic Philology is highly specialized, combining languages, linguistics, paleography and history. His graduate degrees required competence in English, German, Medieval Latin and two other modern languages. He chose Dutch and Norwegian. He also took courses in Old and Middle High German. He is an Accredited Genealogist® for Germany, the Netherlands, Belgium, Luxembourg, and Sweden through the International Commission for the Accreditation of Professional Genealogists, and certified by the Verband deutschsprachiger Berufsgenealogen. Dr. Juengling is a Research Consultant at the Family History Library in Salt Lake City, Utah.
---