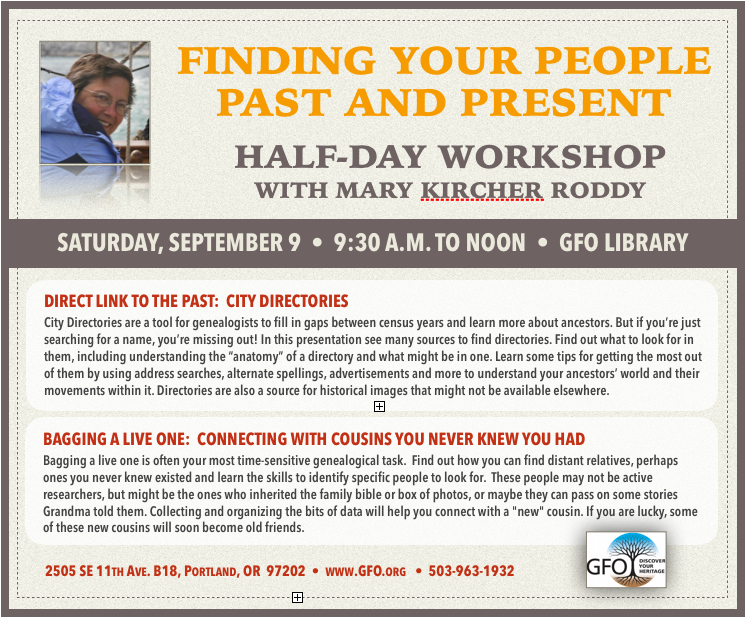 Event Title:
Finding Your People, Then & Now - Workshop
Description:
Date: Saturday, Sept. 9
Time: 9:30 a.m. to noon
Presenter: Mary Kircher Roddy

Bagging a Live One: Connecting With Cousins You Never Knew You Had - Bagging a live one is often your most time-sensitive genealogical task. Find out how you can find distant relatives, perhaps ones you never knew existed and learn the skills to identify specific people to look for. These people may not be active researchers, but might be the ones who inherited the family bible or box of photos, or maybe they can pass on some stories Grandma told them. Collecting and organizing the bits of data will help you connect with a "new" cousin. If you are lucky, some of these new cousins will soon become old friends.

Direct Link to the Past: City Directories - If you could go back in time to knock on your ancestor's door, city directories would be your key to identifying the right door to knock on. But if you're just searching for a name, you're missing out! In this presentation see many sources to find directories. Find out what to look for in them, including understanding the "anatomy" of a directory and what might be in one. Learn some tips for getting the most out of them by using address searches, alternate spellings, advertisements and more to understand your ancestors' world and their movements within it. Directories are also a source for historical images that might not be available elsewhere.
This form stopped accepting submissions on September 9, 2017 9:30 am PDT.